Roof Repair Services in Charlotte, Concord, Rock Hill, & Nearby NC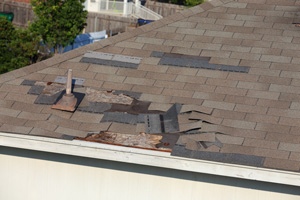 Roof Damage. Whether it's one damaged shingle or severe storm damage, you should repair your roof right away.
Get the fast and reliable roof repairs you need
There are several reasons for homeowners to consider hiring a roofing contractor for roof repairs in North Carolina. Perhaps your house has a minor leak that you've been ignoring, or a severe storm passed through and damaged some of your roof shingles. Though you may have ignored these problems in the past, you should act on them now to avoid more permanent and detrimental issues down the road. Repairing your roof right away can not only prolong the life of your roof, but it will help it remain aesthetically pleasing and enhance the overall value of your home.
The roof is the most important element of your home. It protects your house, your family, and all of your belongings inside the home, including furniture and appliances. It is essential that you keep up with the condition of your roof through proper roof repairs.
Are you in need of roof repairs? Mighty Dog Roofing is a full-service roofing company providing our professional roof repair services in Charlotte, Concord, Rock Hill, Huntersville, Kannapolis, Indian Trail, Mooresville, Monroe, Matthews, Cornelius, and most areas nearby in North Carolina! Call us today to schedule a FREE roof repair cost estimate.
Before and After
Before

After

This old roof had some leaks and the home owner contacted us to come inspect the roof. During our inspection we found that the roof had been damaged by hail. The insurance company sent out an adjuster and they agreed that the roof was in need of replacement due to the damage. The home owner choose to upgrade their shingle to an Owens Corning Oakridge Tru def Williamsburg Gray shingle and it not only looks better but carries a 110mph wind warranty.

Before

After

This property was affected by recent severe weather and we informed the customer that the roof was in need of replacement due to the Hail Damage on the shingles. We met the insurance company at the property and they agreed with our findings and paid for a complete roof. The homeowner chose to upgrade their shingle in hopes of being better prepared for the next storm and choose an Owens Corning Oakridge Tru def shingle in the Twilight Black color. Look incredible and comes with a 110mph wind rating.

Before

After

The homeowner called us with a concern about a bad leak coming from the roof. Our representative quickly located the source of the problem, and provided the homeowner with options to solve the problem. We replaced two sheets of wood decking to fix the leak and replaced all of the shingles with the homeowner's choice of Owens Corning Oakridge Architectural shingles in Onyx Black, and replaced two plumbing boots and installed U.V. guards, and replaced flashing on all the walls and chimneys in black.

Before

After

This home is located in Knightdale, NC. The roof had been damaged by a recent storm and was approved by the customer's insurance company for replacement. The previous roof was a 3 tab 20-25yr shingle and the customer choose to upgrade to an Owens Corning Limited Lifetime Duration shingle. Brownwood is the color that the customer chose.

Before

After

The home owner contacted us when a leak started causing stains on their ceiling. They decided to go ahead and replace the roof, so Neal provided them with many options to choose from. They decided o our Owens Corning Supreme shingles in Williamsburg Gray.
Wood rot & hail damage
The soffit (wood or metal panel on the underside of the roof's overhang) and the fascia (vertical board that runs along the roof line) are both at risk for water damage over time. Animals, like birds, squirrels, and raccoons like to nest in the soffit, and soft spots in the wood caused by rot will make it easier for them to gain access.
Hail can have a significant impact on your roof, leaving behind dents and dark spots on asphalt roofs. Shingles damaged by hail can often times allow water to leak into the home, causing damage to the roof deck, interior walls, and ceiling.
We can inspect your roof for wood rot or hail damage and make the proper repairs to restore your roof to its full functionality.
We help with a number of roofing problems:
Wind damage
Detrimental impacts from trees, bushes and other outside elements
Hail and storm damage
Damaged shingles
Roof leaks
Problems with your roof flashing
Damaged gutters and downspouts
Improper roof ventilation
Wood rot
Get started with a free roof repair cost estimate!
You want to be able to rely on a roofing contractor you can trust, which is why Mighty Dog Roofing is here to help you. We solve a wide range of roofing issues, from leak repairs, to emergency roof repairs, damaged shingles, or even signs of wood rot and aging.
If you live in Concord, Charlotte, Rock Hill, Huntersville, Kannapolis, Indian Trail, Mooresville, Monroe, Matthews, Cornelius, or any area nearby, contact us today to schedule your free roof repair cost estimate in North Carolina.