Efficient Replacement Windows Contractor Charlotte, Concord, Rock Hill
Eliminate drafts and enhance your home's appearance with our windows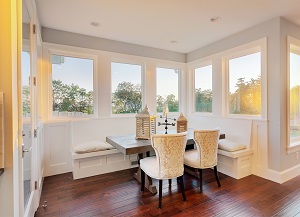 Replacement windows are a beautiful upgrade for your home's appearance & energy-efficiency.
Notice any uncomfortable drafts in your home? Do you have windows with chipping paint, or ones that get stuck when you open and close them? These are all significant signs that you are in desperate need for some new windows.
RoofRoof install high-quality replacement windows that will not only prevent drafts, but will also cut heating and cooling costs in half due to their energy-efficient properties. Our windows are built by top manufacturers and are specifically engineered to look beautiful and function even better than they look.
Our windows are available for homes in Concord, Charlotte, Rock Hill, and the surrounding areas of North Carolina. If you are interested in beautiful, new windows, give us a call today and get your free window replacement cost estimate!
Replacement windows will help your home
Here at RoofRoof, we have many different styles of windows to choose from, all with added benefits for your home's efficiency and well-being. Below are the reasons you should definitely consider window replacements for your home.
Energy-efficiency: New windows will seal your home and make it airtight. This means you won't lose conditioned air in the warmer and cooler months when you are heating or cooling your home.
Improved aesthetics: New windows look beautiful, especially when you pick a style that complements the other exterior elements of your home, such as your siding and roof. Replacement windows are noticeable, adding a dramatic difference from windows that are worn down and chipped or cracked.
Increased home value: Replacement windows greatly increase the value of your home, whether it's for personal gain or you're looking to resell your home.
Comfort & safety: Our replacement windows will reduce noise, making it easier for you and your family to enjoy spending time inside. The enhanced comfort replacement windows bring is measured by the amount of natural light you'll gain and drafts you'll lose. You and your family can enjoy a quiet, comfortable and safe home with windows that easily lock and allow natural sunlight when the curtains are open.
Products
Simonton Windows & Doors is a proud member of the Ply Gem family and a leading manufacturer of quality windows and doors. They were founded in 1946 and differentiated themselves from the rest of the industry in 1981 by being one of the first manufacturers to begin producing energy-efficient vinyl windows.
They've come a long way since and now offer 12 different window and patio door lines with varying customization and stylistic options. Simonton has been honored numerous times and received various awards including Highest in Builder and Remodeler Satisfaction seven times by J.D. Power.
Vinyl Windows
Vinyl windows provide a durable, low maintenance and energy efficient window option, at a great value, and Simonton brings you the very best in vinyl windows. With Simonton, you are ensured a lifetime of comfort and quality with their Double-Lifetime Limited Warranty and AAMA Gold Certification for all of their windows. This advanced certification program tests for thermal performance as well as air, water and structural integrity, so you know you are getting a superior product.
Vinyl is one of the best materials to choose for your windows, and will add to the value of your home. An excellent insulator, vinyl windows can help lower utility bills they are trustworthy through the most extreme weather conditions; they never need more than an occasional rinse to stay looking new for years; and they are a breeze to operate. Simonton Windows allows you to easily find the perfect style of windows for your home, with every window custom built to your exact specifications.
Take a look at the style catalog to help you choose the ultimate window solution for your home:
Simonton Reflections - Style Guide
Simonton Reflections - Asure Warranty
Alside provides the latest energy-efficient products backed by industry-leading warranties and can assure customer satisfaction with every investment in their business. Alside has specialized in over 70 years of excellence in the exterior building products industry and they stand by their innovative ideas and functionality of their products.
Alside Vinyl Replacement Windows
Alside has over 65 years of experience as an industry leader in replacement windows. Alside Windows deliver unmatched beauty, strength and energy savings while being are custom-made to fit your current window openings precisely.
Why to Choose Alside
Wide variety of styles
Energy efficient options
Long lasting durability and performance
Atrium Windows and Doors was established in 1946 by dedicated employees with homeowner's needs in mind. With the knowledge that there are many window and door companies available, Atrium aims to be your first choice by providing the most ideal windows, doors and other building components.
Atrium Windows
Atrium Windows provides aluminum and vinyl replacement and new construction windows to professional installers.
Features Include:
Custom sizing available
Weather-tight seal
Energy efficient, higher R Value
Easy to clean
Strong, durable design
We have multiple replacement window options to choose from
When replacing the windows on your home, we can help you find the right style and type. Insert replacement windows can fit perfectly into your old frame. They are economical and easy to install, without the hassle of removing the old interior or exterior moldings. They are also easy to wash and maintain.
Sash kits are another option for a quick and economical replacement. Just like insert-style windows, the old frame remains. Because sash kits have no frame of their own, they simply slide on vinyl jam liners that are fastened to the existing jamb. However, sash kit windows are only an option where window frames are sound and square. They also tilt for easy cleaning and maintenance.
There are also full-frame replacement windows that require the removal of moldings, which increases labor. However, their advantage is that they do not shrink the visible opening the way insert replacements do, allowing you to increase or decrease window size.
Contact RoofRoof today and schedule your free window replacement cost estimate!
We are a roofing contractor and we proudly serve Concord, Charlotte, Rock Hill, Huntersville, Kannapolis, Indian Trail, Mooresville, Monroe, Matthews, Cornelius, and nearby. Contact us today at 1-855-216-2497 or by filling out a form online and we can get you started with a free estimate on replacement windows in North Carolina!
Looking for a price? Get a no cost, no obligation free estimate.